How often should you evaluate & adjust your website?
This question was asked in the Web Strategy Facebook group. My answer was that all the time & ongoing. And why do I say this? Well if your website is static, then you may have what Jeremiah Owyang refers to as an 'Irrelevant Website". Are you really paying attention to the needs of your customers?
In my new role I'm considering how a corporate site can be made more relevant. It's a new challenge! My sister & I have had lots of practice with this since we opened our site in January. It has evolved so much as we've responded to our users. And our efforts have resulted in stats that show that 60% are return visitors. Our Technorati rank is under 100,000 which I consider an accomplishment because we're in a specialized niche. I believe those two items indicate we have a community that's interconnected to the community at large.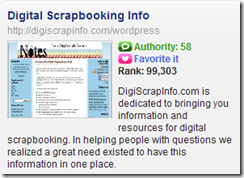 But here's the deal: we have established an expectation to provide information, tech support & customer service at a high level, so we've decided to bring in another person. Ah, now there's the challenge! We've had an internal wiki where we've collaborated, but it is growing all of a sudden! Communication & collaboration are going to be key.  So my sister has added a calendar and started setting up more pages to plan our projects. We are trying to get topics out of email. Our mini model gives me plenty to think about as I consider my larger project of working with my company's website & consider possibilities for communication & collaboration. Jeremiah has a great post that offers more in-depth info on this topic.
My point is that I think that good web strategy practices can be applied to any size of website & SHOULD be! If you care about your customers, then you should be continually considering your customers, your interface & the level of service/products that you offer.