Yesterday the new Facebook advertising plan was announced. It's logical that it's going to be integrated right into our newsfeeds. Maximum exposure is the goal. And I think that the premise is that if it's transparent, then it will work? (that part I'm still trying to understand). But let's keep in mind that it IS advertising
We are all consumers first. I have been quoted for saying:
Facebook has tremendous potential for networking & marketing as long as you're sensitive to the idea that it's a social space.
So Facebook has a new plan to allow advertisers (including People) to create Pages, buy Social Ads & Facebook Ads. Here is Facebook's description of a Page:
Your fans love you, and their friends will know it.

When your fans interact with your Facebook Page, the actions they take are automatically generated into social stories. These stories are published to News Feed, which friends may see the next time they log into Facebook. The stories link back to your Facebook Page, inviting more people to interact with it, which generates more social stories and drives even more traffic to your Page. Think of it as word-of-mouth marketing, only completely free and happening online.
But my Friends ARE my fans! Why do I need to create a page in addition to my profile?
And the phrase 'think of it as word-of-mouth marketing, only completely free' – isn't the basic premise of word of mouth marketing that it IS free? Since when has that cost anything?
Jeremiah created a page for himself. I appreciate his providing an example. Rather than befriending that Page, you can become a Fan. When I click on that option, I get this: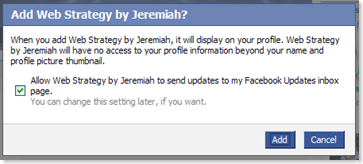 I must say that the sentence 'You can change this setting later, if you want.' In my opinion, Facebook's settings aren't apparent & it should read, 'You can change this later, but it may be very difficult to figure out how'. In the meantime it's feeding into my Newsfeed that I'm a Fan of Jeremiah. Well, why state the obvious? We all know this! Anyone that reads my blog is aware of that. And if you aren't, now you know!
Last night in reading the commentary, some questions came to mind:
Is this something that my company can use? & our digiscrappers?
How is this different than the ACDSee Group that I created?
Ultimately what value does it provide?
So today I did some more reading & looking around Facebook.
Nicholas Carr provides an example of how Coca Cola will use it. They have a Page up now.
Sprite will create a new Facebook Page for Sprite Sips and will run a series of Social Ads that leverage Facebook's natural viral communications to spread the application across its user base.
Ummm, I'm ignoring werewolf & zombie invitations (even from my daughter), why would I be inclined to add a Sprite Sip? My profile won't load the way it is, why would I add more applications to it? (I commented yesterday about my waiting to hear from Facebook – do they have Customer Service?) In the meantime I'm minimizing the number of app's I have because they don't load, much less adding a number of Advertising app's.
The next question is how is the Page different from a Group? Jeremiah has a Web Strategy Group & now a Page. I see the main diference is that the Discussion Board is placed high on the Group & at the bottom of the Page. Is this an indicator of the value of Discussion on the Page?
Another thing that I'm trying to figure out is how is the Newsfeed information different from a Page & a Group? For example if Julia writes on the wall of the ACDSee group, that's posted throughout her network. Isn't that just as effective & offers the same benefit? What am I missing?
Something that bothers me is that you can't search for the pages. You could for sponsored groups. Do a search for Page & this comes up, but if you click on the Pages tab you can't view them. Maybe it's too early?

So I'm glad that Jeremiah created a sample Page to demonstrate it. I will be his fan in real life, but I can't really hit that button on Facebook. It brings me to my last question, what value does it provide? Ultimately, it seems to be advertising & to be honest, I ignore the banners, flyers, etc. I'm at Facebook to talk with my friends, my daughter (I've helped her with her homework there), and network. It's difficult to knowingly subject my friend's newsfeeds to that.
I value my newsfeed & do read what my friends are doing (ignoring the periodic boxed ad – in fact it annoys me when I find that I've read it). That's how I learn of new groups. AND in the last month or so, the Home tab is the only one that will load on my wireless access, so it's how I use Facebook (not by choice mind you). Just as I respect my friends in regard to not spamming them with pointless app's, likewise I won't spam them with ad's.
One last thought about all of this. I value my time & everyone else's. There has been a discussion about groups & how people just join & don't participate. Bryan Person had commentary on that on his blog. There are a number of Groups that provide me with value. The Web Strategy group, the Community Manager group (which I'm moderating with Jeremiah) & there are a few others that I participate in. So now toss in Pages.
In less than a month I'm presenting on Groups at a Facebook Conference, so I welcome your comments. And feel free to answer any of my questions, I'd love to hear your ideas.