My first intention was to gather all the responses to the Measurement meme that Geoff Livingston started. But today after doing some reading I'm going to take this in a different direction.
I ended up here at Avinash's post Six Rules for Creating a Data Driven Boss. You can't follow Jeremiah Owyang without reference to Avinash's work in Web Analytics. I've pondered reading his book, but haven't dove in yet. I LOVE his suggestion to be an 'Analysis Ninja' rather than a 'reporting squirrel'.
I wanted to share the graphic that Avinash made with you. As a community manager I see myself in the center as the Voice of the Customer & doing experimentation & testing. So my challenge is to go in both directions:
to gain competitive intelligence & insight
to analyze project outcomes
His graphic really puts into perspective the challenges of measuring social media & targeting in on the insights those results provide.
Kami Huyse has a phenomenal slide show that is a fabulous resource:
1. The Steps (from her slideshow)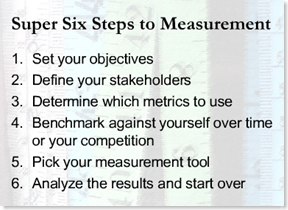 2. The measurement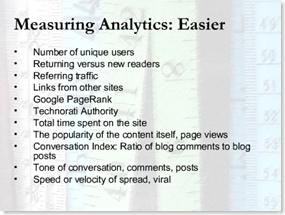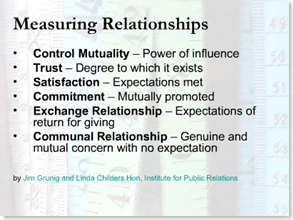 Here are some of the responses to the meme. There is a lot of valuable information here & it's interesting to hear various people's perspectives:
Mack Collier provides an in-depth view of blog ROI & Chris Brogan adds his thoughts. Clay Newton, Gaurav Mishra, Geoff Livingston, David Jones, Valeria Maltoni, Kami Huyse, Kelli Matthews, Judy Gombita(updated – it's by Bill Sledzik), Greg Cangiolosi,
Tom O'Brien, Francois Gossieaux, Patrick Schaber,
NewMediaJim, Jennifer Laycock,
How are your plans for measurement going? For my project I'm incorporating feedback into my proposal. Soon we'll be on to implementation!