That was the topic of my first presentation as a Community Manager/Social Media geek at Web Community Forum 07 in Seattle. It was also my first opportunity to meet bloggers in person. (more on that to come).
Tris Hussey of BlogNation did some great live blogging. He covered our session on Facebook Groups. Jake McKee & Monica Guzman joined me on our panel & were awesome!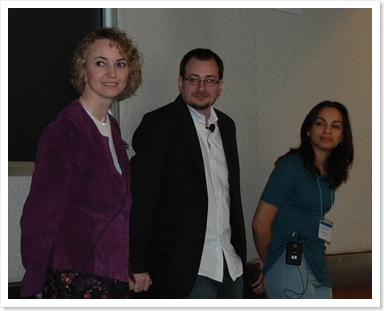 Monica is totally passionate about her blogging & online ventures. She said – everything she does is an experiment! (My sister & I know how that is – and we love the adventure). She's a journalist & it was fun listening to her vent about other sources posting news before her newspaper did. She was like – 'how in the %&*# does Twitter get it immediately'? It made me smile to listen to her wanting to be the best! Rock on Monica!
Jake McKee is known as the Community Guy for a reason – he's been building community before it was in vogue. I love his firm's name, An Ant's Eye View because it's SO perfect! Aren't we all just looking up as little beings at the world at large? I certainly feel that way being situated here in Minnesota. But thanks to web 2.0 those skyscrapers aren't quite so tall!
It was great to meet these two & present with them!