How many times have you went looking for something on your computer & didn't really know where to begin? …and wasted a lot of time searching for…
an email that you know you received or sent? with the person's name or topic?  but you have 5+ accounts)
a document & you can't remember if it's an email attachment or on your hard drive?
I just don't have the patience or time to spend looking for those types of things anymore.
So, copernic has become one of my ESSENTIAL desktop app's. And it's free which makes it great!
What it is:
It's a desktop application that you download, install, and then it catalogs your hard drive. My sister was suspect of this, but she's heard me rave about it enough that I think she may be using it. (She reads more email accounts into Thunderbird than I do).
How to use it:
Copernic installs a little search bar in the bottom right of your window

Type in your search term. In this case I'm going to look for email from Robin (from Rakscraps).
A pop up window comes up when you start typing.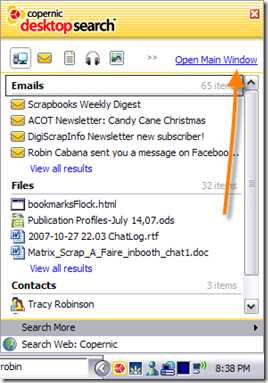 The search results for Robin show 65 emails, 32 files & 3 contacts.
From here click on the "Open Main Window" & a full window opens with a bottom pane showing the details of the email or file that you choose.
The choice to Reply or Forward email from Copernic doesn't work.
But you can open files from it, which is very handy!  This handy little app saves me a LOT of time!