There is never a better time to establish a business online than now. The downturn in the economy is forcing many people to look at business in a new light. Whatever your reason is don't let the shift to the online world intimidate you.
There are many things to consider & I briefly addressed the big picture yesterday. Today I'm excited to share an example of someone who not only transitioned successfully, but is very enthusiastic about the potential of doing business online!
I met Keith Bloemendaal because he linked to my blog. He sells fences in the Raleigh, NC area. That's totally related to what I write about, right? (Bloggers have egos & whoever lists me with the likes of Chris Brogan & ProBlogger gets my attention!) The evil part of me left a comment with the first sentence as, "My husband would love a rail fence!". So when Keith followed up on the lead – his first statement was,
I think you should find a local contractor to put up your fence.
But I did compliment Keith on his site & asked to interview him. (There was a reason that he linked to my blog!).
One look at Keith's site & I was totally impressed because it's totally sleek & gorgeous. In fact it motivates me to get the new theme up on my blog (soon!).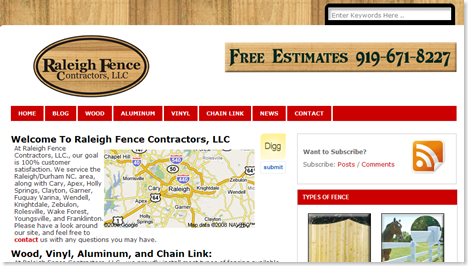 Here is Keith's story & I hope that you find it motivating! Three weeks ago Keith chose to not only launch a traditional business online, but he also launched himself into the social media scene. He's been researching & learning as much as he can.
Keith's new vocabulary includes words like Google AdSense, SEO, Twitter, content management site, Digg, etc. We had a spirited discussion & he's quite familiar with Technorati already, so he's well on his way. He even explained the advantage to hosting images on Flickr so that they can be tagged & Google will see them. (I'm presently embedding my images but it's always good to consider new ideas!)
Before going online Keith did some research & there's not many people blogging in the fence industry (and he's hoping that no one else catches on to it!). He wants to increase his SEO as fast as possible. It sounds like he's been having a great time learning the in's & out's! His organic search rankings have doubled & he's looking forward to continued success in that area.
The fence industry in Raleigh, NC where Keith is at is fairly competitive. There are 35-40 others offering similar services. But some are going out of business. He's had a tremendous response to his site. All of his leads are from his website. He has one ad in a traditional mailer. He's primarily using location targeted AdSense & building his network. Craigslist sends him a number of people each day too. He also realizes that a small business owner is a community manager (and I'm glad that he finds my blog helpful!).
On that note the local social media people in the Raleigh area are lending him a hand. I've said many times here on my blog how amazingly helpful bloggers are. Keith mentioned that Wayne Sutton has been a great help. (I'm connected with Wayne on both Twitter & Plurk – it's a small world!).
I asked Keith what the pro's & con's have been. He said that the networking is hugely time consuming. On the flip side he loves the research & growing his network. I think he used the word addiction!

He said,
Honestly, this is the way of the future – to take your business to the next level. Whether you're a small sign contractor or in construction you have to stand out (especially in this economy).
Keith said that he's gotten customers because they said that he knew what he was doing after reading his blog. So if you want inspiration check out Keith's new business. I look forward to hearing how it grows!