We are all building our brand. I have enjoyed studying the process & finding ways to maximize my efforts. There are people that are masters at it. My personal branding mentor and THE expert, Dan Schawbel checked in with me last week. If you have mentors (and you should!) then you appreciate their feedback & time. This post is dedicated to him. Happy Birthday, Dan! At 25 he is celebrating the publishing of his first book Me 2.0: Build a Powerful Brand to Achieve Career Success. It's available for pre-order! I'm 42 & Dan's insight & guidance has been invaluable in the process of building my career online.
This is advanced brand building but I'll put some links at the end if you're just getting started. Personal branding requires planning & consistency. David Armano has the perfect graphic that shows the step I want to talk about today:
Social networks – Establish your brand on Facebook, Twitter, LinkedIn, etc
Internal properties – Establish your voice on your blog
External properties – Sites established by others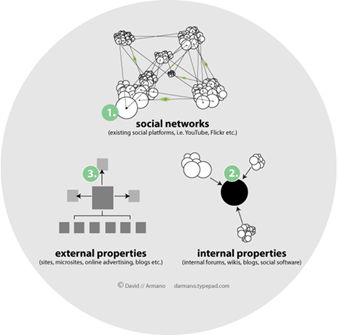 I'm going to focus on the external properties & that's why I said this is 'advanced'. You need to have established your brand & voice on your blog & social networks. The trick with the external properties is that it's permission based. You could buy advertising, but that isn't practical for personal branding.
This is about syndication. The example that you're familiar with is the RSS feed. Wikipedia has a nice explanation of the motivation for syndication:
Syndication benefits both the websites providing information and the websites displaying it. For the receiving site, content syndication is an effective way of adding greater depth and immediacy of information to its pages, making it more attractive to users. For the transmitting site, syndication drives exposure across numerous online platforms. This generates new traffic for the transmitting site — making syndication a free and easy form of advertisement.
The goal is to give your blog legs.
1. Syndicate your material:  I have been slowly syndicating my blog to various sites as I find opportunities. It uses my RSS feed & is completely automatic once the initial set up is done. Google alerts tells me when an article is posted at a certain site & it makes me smile. Here are places where I'm syndicating my blog to: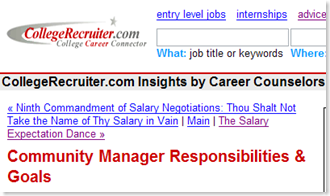 Find sites in your subject area that are a mix of many authors. Chances are high that they're aggregating content from many sites & it's via RSS feeds. It's easy once you start thinking about it this way & you'll see opportunities around the web as you interact in your niche. And don't be shy! If there is a question then ask the admin. Be bold & suggest your content if you feel it will help that site.
2. Blog on a group blog. This requires more time but you can make note on your blog: "I have a post on <topic> at the other blog". This builds awareness that you're blogging on that group blog & increases readership there. I'm blogging at Marketing 2.0. Three are some great conversations going on behind it including a growing community. There are also mashups & I believe that LockerGnome is like that. It appears that Chris Pirillo has created some type of compensation format.
3. Guest blogging. Guest blogging is fun because it gives you the opportunity to write for someone else's readers. For me it's a challenge to do my best writing. If you WANT to guest post for someone let them know & tell them why. My experience with this is that one of Chris Brogan's posts caused me to ask if I could write a guest post. (His posts frequently motivate me to respond here, but one inspired me to want to share my ideas with his readers). My guest post on Building Brand through Building Community listed ways that I've found effective for building my brand. It caught Darren Rowse's eye & he asked me to guest post on ProBlogger. I asked what topic he wanted & he chose Taking Your Blog to a Community. That was the most intimidating post I've ever written, but it brought me a new readership of those interested in networking, building community & brand. (This post is a sub topic of that larger post – thanks Darren for the inspiraton!). I'm excited to be attending BlogWorld next weekend & meeting Chris & Darren in person!
Branding is not flipping a switch. It's a process over time. I have been blogging since January of 2007 & that's when I started building my brand. But I've only been blogging for a year on Community related topics. Some will say that attending events is important, but I am an example of doing it online. I am proud to say that I've established a very strong personal brand without attending many events. Building brand is the most important thing you can do for yourself. It does take patience & determination.
As promised, here are a list of links if you're just getting started. These people have amazing personal brands & regularly share their ideas:
What have you found effective in building your brand? What points did I miss?
Do you have a story about how you built your brand? Please share it here or on your blog & link to this post. Our stories are the best way for others to learn & transfer to their own situation.