Not too long ago Aaron Newman, Founder of Techrigy, & I began a conversation about his product and the needs of the community. That evolved into his inviting me to join his team & lead their community! I enjoy the brand monitoring space for a number of reasons so it's a good fit – more on that below & why.
I will also continue to work with Network Solutions. So I like to be busy, what can I say?! For those that know me well (ie connected on IM) you know that I work seven days a week.
In regard to Techrigy, I've been connected to them for awhile. They've been syndicating my blog into their community for their customers. Their product SM2 is a monitoring & measurement tool. If you read my blog regularly you know that I focus on building brand & social networking. My philosophy is that a community manager should be actively participating in the full range of marketing, PR, awareness of competitor's products & visibility, product development, etc.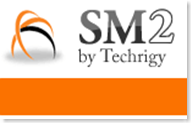 I'm excited about SM2 for a number of reasons! I've been using various tools since 2006. The trick is to efficiently identify the relevant information & respond. The other aspect is the reporting & to be honest I'm a bit of a stat's junkie. (That may be because I have majors in math, chemistry & physics. You didn't know that huh?! I've always enjoyed collecting data & making sense of it. Now you know the rest of the story! I enjoy pondering ROI too.).
In addition to SM2 they also offer a Freemium version that allows 5 keyword phrases & up to 1000 results. Aaron & his team have created an amazingly robust product! There are many tools that offer the same basic features. The following features in SM2 stand out for me:
Results are emailed to me daily – so I don't need to use a number of monitoring sources
In the dashboard, the results are displayed in a variety of manners allowing for easier interpretation (they're sliced & diced in many ways!)
The keywords define the results, but categories subdivide the results offering more in-depth interpretation

preset categories are available to get you started
you can create your own
you can share your categories with others & likewise use shared ones

Access to results back to late 2007. Or you can choose specific time segments
Demographics – this information that would be very helpful to marketing as you identify your customer segments
These are graphs from my search for the keywords of 'Community Manager', 'Connie Bensen'. The 2/3 male results are as expected as is the age. All graphs are drillable to view the results that generated them.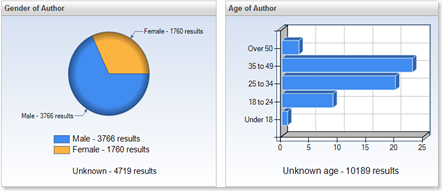 Domain information lists the domains, along with the # of results, & an authority calculated by an algorithm (for some reason Twitter is my highest!)
Maps have pins depicting the number of search results. (As everywhere you can drill down & see results from a certain locale).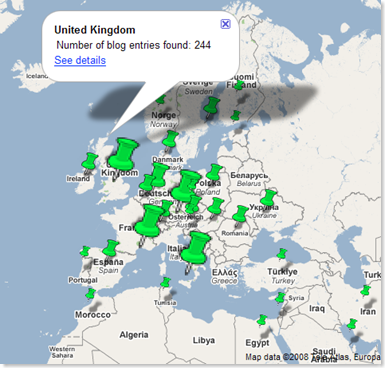 Finally each result has this powerful little tool bar:

From left to right:
pencil/paper – you can edit the placement of that result in the categories
magnifying glass – you can view information on a specific result. It provides considerable information on the blog & owner including author demographics, email address, traffic details & ranking. This is really helpful to quickly gather information on an identified influencer.
mark as spam
delete result
The last 3 each open a new window so that you can view the result in the corresponding analytic tool.
See why I'm loving it? My goal is to provide the community with:
assistance in learning to use the tool so that it's a timesaver
workflows for utilizing the data on a daily basis & for reporting (ROI)
ideas on how to use the search results & data to leverage their social media efforts (I hesitate to use the word 'campaign')
gathering product feedback to make improvements & for feature development
increasing brand visibility
connecting them with others to share ideas on how they're using the tool
If you want to check it out, sign up for the Freemium version. The trick is to use keywords that aren't too broad. We will be glad to help with that. If it pulls the max search results, then just delete them, and make your keywords more specific.
And of course let me know if you need assistance. On Twitter I am @cbensen or send an email to: