Isn't this wonderful? And it's all of the work of my sister, Heidi! She's such an awesome builder. I was just with her on Friday & we took this photo.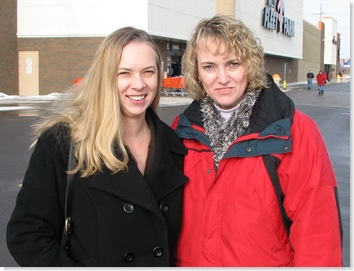 It was time for change & we've been working on this for a few months because:
the red has served it's purpose, but people were tired of the photo
it was great for branding though
I needed something more professional with new branding
I wanted to make it easier to access my resources – see tabs
my speaking engagements deserve highlighting
and after a year it was time for a change!
A quick tour around:
The blog is still a WordPress blog which my sister magically made to feel like the rest
The rest of the site is Joomla & pretty cool. I can easily edit it
There are forums with a private area for Community people to discuss life privately
A couple of cool features here on the blog – there are two sets of tabs that save a lot of space. My sister tweaked the CSS so they highlight when you mouseover them.
And today I saw a very cool way to continue to build my Twitter community and help all of you connect with people who comment on my blog.
When you comment, you can add your Twitter name – I put in an example below
Then it is turned into a hyperlink for others to connect to you with!
Leave a comment & try it out! Here's the plug in so you can have the same coolness.
A friend said that @jowyang & @ChrisBrogan should use it to make it easier to connect with their community. It's a great idea guys!
I'd love to have your feedback on the redesign. Suggestions? It's never done. And my sister has redone many blogs including that of Sean O'Driscoll & Mari Smith. You can find her at SolutionsByHeidi.com