I'm proud to say that I was the first to openly discuss salary expectations here on my blog starting in the fall of 2007. Now this emerging role is one of the fastest growing in the job market. Despite the recession, companies realize the advantages of adding this role and are seeking qualified candidates.
And on the flip side, many that have become statistics due to the economy are evaluating their skill set and reinventing themselves. Rachel, an unemployed journalist shared her story of how she creatively found employment in this field.
I have both employers and job seekers asking me about salary expectations. This is my advice. It's based on discussions with recent hires, companies seeking, and a Salary Survey done last year.
The job market at present favors those seeking positions.
Employers seeking a community manager/social media specialist can approach this two ways:
entry level with specific salary range – but be aware that it may:

prevent you from hiring someone with the experience & skills that will really benefit your organization
requires in-depth interviewing to ensure a good fit
the successful candidate will use the job to gain experience & then move on (taking their personality with them) – the nature of this role is to be the company's voice, so it will affect your customers

professional position with responsibility for leadership

ask the applicants what their salary expectations are

this was a huge shock for me, but I truly felt like my professional skills were being recognized.
my salary increased 30% from my previous library/admin position that required a Master's degree

the advantage to this is that you'll get a much broader selection of applicants & together you can define the role (& fair compensation)
the successful candidate will tend to stay because they're intrinsically motivated & in a professionally rewarding position

In either case, consider offering a remote option – because:

the position is project oriented & lends itself to working remotely (I wouldn't get half as much done at the office)
applicants will be more qualified & you'll find a better fit
salary is more flexible because cost of living varies widely (for ex: it costs 2.5 x more to live in San Fran than where I live in rural Minnesota) And I provide damn good services even though I don't live in SF! (yes, there's a story there)
these are my guidelines for working remotely (an overview of my chat with Warren Sukernek, who is now working remotely, follow him on Twitter @WarrenSS)
This morning Leslie Carothers asked an interesting question on Twitter. (She's a leading community builder in the home furnishings industry.) I couldn't answer this in 140 char's or less.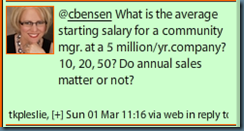 The answer to this question requires a few parts:
1. The position needs are going to be based on the company's business requirements.
What is their strategy for online engagement?
How dependent is their success on interaction with their customers online?
Is their internal culture ready for an incredible shift? Talking with customers directly requires a whole new attitude.
2. Annual company sales don't matter.
Many startups with online services & products KNOW they have to have this position to make them relevant & successful.
My prediction is that the larger the enterprise, the slower they will be to add it.

to assist with this I'm doing workshops at Community 2.0 and Enterprise 2.0
there's a learning curve in understanding the role & strategically implementing it

Salaries for entry level online community managers range from $50 k to $ 85 k depending on location. Please don't insult people that have acquired the skills and are ready to build your brand & provide for your customers directly. I have recommended to people to turn down job offers that require them to work onsite & yet can't afford the cost of living there. The employer can compromise & try remote. That's called contracting. It bothers me when employers try to take advantage of talented people with the job skills they're seeking. And if you're considering doing contracting work, remember that you need to request a higher rate because you'll be responsible for your own FICA/Medicare, health insurance, retirement, etc. In my case I owed 49% in taxes before considering health insurance or retirement. So discuss the ramifications with your accountant before you spend it all 
Salaries for experienced online community managers range from $60 k to over $100 k. I'm aware of one that works remotely with a salary of $120 k.
My last point was my first thought when I saw Leslie's question. To be honest, working at a startup is far easier because the culture is oriented toward Web 2.0 and they're far more likely to embrace transparency & authenticity. The silos don't exist yet and the organization's hierarchy is relatively flat. So, realistically, an online community manager starting in the enterprise deserves to be paid more because they're going to have so many more challenges to overcome internally. It's going to require so much more patience. They're going to need executive sponsorship. Otherwise the position will not be effective and will fall short of it's potential return.

All of those are reasons to hire a community manager with experience & respect it as a professional position.
Having an online community manager is an investment in the company's future. It's not just a step towards staying relevant in this challenging world, it's a leap!
And yes, I'm passionate about this topic of compensation & community building as a whole. My readers/network provide me with views from both sides. As always your thoughts are welcome. Let's discuss them!