Many conversations have shifted to Twitter. It has become more than just a networking tool. Business is being transacted there.
For my company Twitter is a the perfect place to fulfill the need for people seeking information and tools for social media monitoring. There is an expressed need & my team & I offer our assistance. So for B2C & B2B companies Twitter has huge opportunities if your potential customers are there.
I have noticed a shift from people using email to their reliance on direct messages in Twitter. I first noticed this in the end of December & it is becoming more apparent. There are two things:
1. people expect an immediate response via Twitter
I don't have it open all the time
Twitter quit emailing me notifications of DM's in mid December
I monitor email all the time
2. DM's scare me in regard to archiving messages because:
they're not searchable
management of messages in Twitter is difficult – it's one message at a time to delete
These are the solutions that I've come up with:
set up Tweet Deck. I like the columns so that I can see the following:
Direct Messages, Replies, Search: Techrigy, Search: 'an industry term', my coworkers
I still do not have it open all the time though. Sometimes it's 2 hrs between checking it. It's easier to have it in the background. Maybe I will need to shift my focus to Twitter rather than email?
For the archival issue, I did find that Tweet Deck has the option to email tweets to yourself (or anyone). I've been using this for DM's that I want to archive.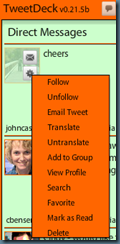 My last post was on 'Digital Body Language' & communicating in the other's person's chosen method, so these are the accommodations I've made. What have you noticed in regard to social networking & people's expectations? Has it affected how you're doing business?