Are you looking for some good conferences this spring? Last year I realized how valuable the in-person networking is & met the amazing people that I had 'met' online. Social media people are a great group to hang out with.
In the end of April I'll be in San Francisco for NewComm Forum. As a 2009 Fellow with Society for New Communications Research I will be presenting on Metrics & Measurement for Successful Communities. Kellie Parker from Sega America will be co-presenting with me.

NewComm Forum has an amazing agenda lined up. It will be a great event!
NewComm Forum :: Apr 27 – 29 :: San Francisco
$100 discount discount code SNCRFRIEND, or a $200. discount off of a Full Access Pass to both NewComm Forum and the Inbound Marketing Summit with discount code NCFCOMBO2
In mid-May I'll be back in San Francisco for Community 2.0. I am really excited about this event too! They have lined up an awesome group of presenters. I'll be doing a 1 day workshop on community management, a presentation on the role of the community manager, and a panel on how to be a kick-ass community manager (thanks to Dawn Foster for that title).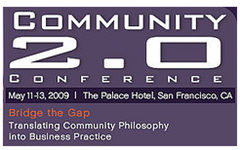 Community 2.0 Conference :: May 11 – 13, 2009 ::  http://www.link2community.com/
Discount code to save 20% off the standard pricing will be: SPKRM2105CB
And this has nothing to do with San Francisco,  but I may as well mention that I'm doing a half day workshop on community strategy at Enterprise 2.0. This will be in Boston & I'm really looking forward to my first trip there. I have a list of friends to meet! So if you're from that area, stay tuned because we'll be having a meet up.

Enterprise 2.0 Conference :: June 22 – 25, 2009 :: e2conf.com
Discount code to save 20% off the conference or a free Pavilion Pass  — CNACEB03
If you'll be at any of these events let me know. I'd love to meet you. Connect with me via email: conniebensen @ gmail.com or on Twitter @cbensen
And I plan to have a meet up outside of each conference. Again, let me know if you'd like to join that. The one I had in San Francisco last fall was great fun!!