Last week in San Francisco I visited the offices of a company that had proudly launched their blog the previous day. They asked for feedback and as a Community Manager my first impulse is: 'How can I help you?'. Here is my advice for them & all of you bravely venturing into this world.
First, I am not an expert on SEO but I have been successful. I invested a considerable amount of time reading up on it when I started blogging. And I never do anything part way! So how good is the search engine optimization on my blog? Google 'community manager' and see what you get: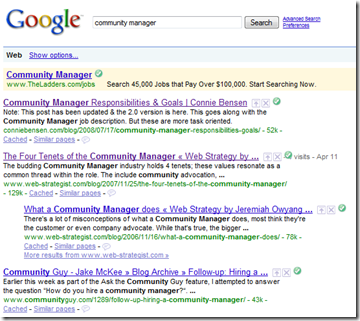 What does this mean (ie: why should you care?):
1. Today I rank #1 for searching in Google for 'community manager'. (I finally rank higher than my friend, Jeremiah Owyang, who rightfully deserves high regard for his Four Tenets article.) Yes, this is a competitive sport. 😉
2. The organizer of Community 2.0 reached out to me to speak because she Googled 'Community Manager'
3. My present client Googled 'social media community manager Minnesota' and found me. Yes, I also live in Minnesota

(And yes, I do consult on special projects)
Be forewarned that SEO (search engine optimization) is addictive.
But the payback is that a blog can greatly increase a site's presence in the eyes of search engines. What does this mean? 
1. People who are looking for your topic can find you.
2. You don't need to buy Google Ad's for your site or advertise it.
3. It gives you presence as a leader in the niche and increases your brand presence.
Let's translate that into business goals:
1. Customers seeking your product/resource will find you
2. Little or no $$'s need to be spent on marketing and advertising
3. Establishes your brand as an industry leader providing information and increases your brand visibility
Most importantly, it's gratifying to give back to the community that supports you (whether as an individual or as a company)
My sister is my webmaster and she's done a great job with mine. You can find her at SolutionsByHeidi
Here are her 3 suggestions in terms of what she feels are important:
Sitemap – submit to Google & Yahoo so that it's crawled immediately
AllinOne SEO – this is a very popular WordPress plugin (esential is probably more like it)
Metatags – choose ones that people search for and don't have too many
Content – This takes time but writing about related topics on a consistent basis builds SEO quickly. For example, I put up my blog in Sept 2007 and focused on Community Management in Dec 2007.
There is no need to worry about keyword density. (If you don't know what I mean by that – don't worry about it, be happy!)
Note: If someone hands you a list of corporate keywords & tells you to use them… you need to have a talk with them. Here are my suggestions:
Review the keywords. Are they words that your customers use in their daily conversations? (If not, it's no use to use them).
Use a monitoring tool like Techrigy SM2 to analyze conversations around your brand & industry to analyze the author tags to identify the best keywords to use. Here's an example of a tag cloud for my niche of Community Manager from SM2. (Do the corporate SEO keywords need tweaking? oh my! See what I mean?)
Writing around corporate keywords comes off stilted. Just write naturally & the organic SEO will happen. I always appreciated that @ShashiB got that when I worked with him at Network Solutions.
More importantly, make sure that your titles have keywords related to your topic in them. For example I used to put up a weekly post called Community Strategist Links to reinforce my SEO for that phrase. I also have a redirect from http://communitystrategist.com so the URL helps with my SEO. (ie: purchase a URL related to your keywords if possible).
And search engines also see the first paragraph, so getting your terms in there is also useful. (Make your point as soon as possible). If you scroll back up I slid in 'Community Manager' in the first paragraph. For awhile I was on a bent of disliking 'community manager' so I was using community building & community strategist but I realized that I was doing myself a disservice in terms of SEO.
Utilize internal links within your site. If you wrote about a related topic then link back to it. Search engines like seeing the interrelationship within your site. In number 2 just above I linked to a previous post that shows an Author Tag Cloud that I was referring to.
Search Engines love back links
Link love – Link to other blogs in your niche. As bloggers we all like to have backlinks. That builds our own SEO. And when you link to us, then we'll come over, read your post, comment and then in the future link to you. This will increase your SEO and it creates a lot of happiness in the community at large. Not sure where to find related bloggers? Use Technorati Search and search by those with High Authority. (It will introduce you to new friends in your topic area too!)
Blog Roll – These are another type of backlinks but they aren't viewed as highly by search engines as backlinks in the content. Link to the blogs that you read and as time goes on others will link back to you. If you get to know a blogger, you can ask if you could mutually link to each other's blogs but please develop a relationship before asking (otherwise it's tacky – I delete so many emails about this… If you don't know me, don't spam me!).
Commenting on other people's blogs – This is really important if you're going to be a blogger. It's as much about participation as it is about writing. So go forth and read other people's blogs in your niche and comment. Leave meaningful comments. If you have written a post that adds value to your comment then add the link. I call these legacy links or breadcrumbs because they create a path back to your blog for readers in the future. It also contributes to your SEO because it's another type of backlink. People love getting comments and if you expect them then give first and ye shall receive.
Measuring your progress
Google Analytics is the best place to watch your blog presence grow. You can see what keywords are helping people find your blog with. You can also see where your traffic is coming from (both physical source as well as blog url's). Google has set up a self paced course at Conversion University.
Claim your blog on Technorati – this shows your Rank, Authority & the number of backlinks. You can track your progress. Some bloggers feel that Technorati no longer has as much relevance.
Finally, Google your topic area. Once you start getting on the top one to three pages it will serve as additional motivation.
For more reading: Darren Rowse has tons of resources (that's where I learned much from!)
What are your suggestions for improving blog SEO?