I had the great fortune to meet Lee Aase at Community 2.0 & have dinner with him. You know how it is… two Minnesotans have to go to San Francisco to finally meet. (I met Lee Odden and Greg Swan in Las Vegas last fall. So there may be a trend).
Today at the Twitter Conference, Guy Kawasaki listed @MayoClinic for using Twitter in innovative ways.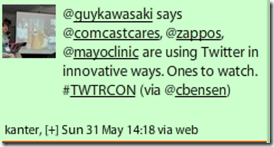 The Mayo Clinic is in Rochester, Minnesota (an hour south of the Twin Cities). It's famous for it's health care and Lee is adding to it's notoriety by using social media in creative ways. (He's a fan of the Flip).
For his presentation he shared this video that was running on YouTube. Since then the couple was featured on Good Morning America. It's such a heartwarming video!
Then you have to watch the interview that Lee does of them in their home. It's too cute listening to 80 yr old's talk about YouTube!
Great stuff eh?