I never want to be too far behind Jeremiah Owyang, so last Saturday I installed Google's Sidewiki. Piece of cake! but I couldn't for the life of me figure out how to claim my blog.
Everyone needs to stake their claim online for a number of reasons. In this case it allows you to post a comment that stays at the top. My guess is that more functionality may come. Best practice in branding says you should own your own domain & all related.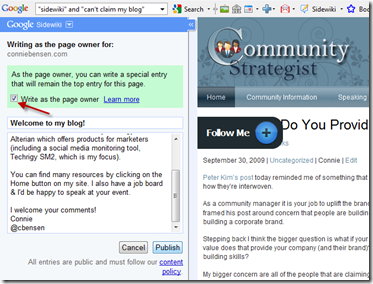 On Saturday I spent 2 hrs fighting with it to get that green box to show up. I installed Sidewiki in Flock. Then in Firefox. It was so frustrating! I am very stubborn when it comes to technology. I was almost ready to ask my sister even! (she maintains my blog – don't EVEN assume that I do!).
So tonite I invested another half hour. And I found the answer! The instructions that I was reading left out one *ahem* major point. And it's my duty to save you the time & pain.
And I'm quite pleased now. I asked my Twitterati to test it. We all like comments, huh? Now you can gather Sidewiki comments too!
* If you're using WordPress, click on Editor on left & then click on Header on right.
Look! It works!!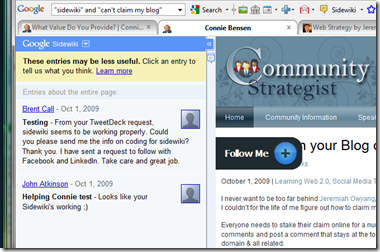 (Sister, Heidi & @SecretSushi – are you guys shocked & amazed?!!

  )