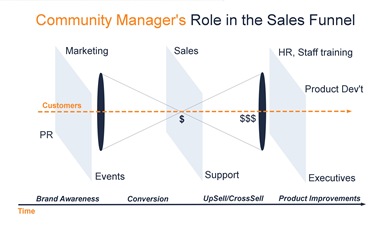 This diagram summarizes what I have learned over the past year about how my role as a Community Manager influences the sales funnel. We are in agreement that social media efforts need to be measured. I will contend that the role of community manager or social media specialist requires you to show how you contribute to your organization's business objectives in order to justify your presence (and paycheck).
I created the diagram to help us as practitioners describe our position and influence in the sales funnel. The concepts apply to B2B sales as much as to B2C. Too often I think that Community Managers are viewed as caretakers of forums and having the voice of the company. I will argue that it is so much more.
The Community Manager influences the sales funnel in a three dimensional way. We are everywhere: before consumers enter the sales funnel, assisting them as they move through it, holding their hand as they convert, and providing ongoing service after the purchase.
Building Brand Awareness before consumers enter the sales funnel:
This is where everyone sees Community Managers interacting with everyone. They make social media marketing look easy while they build brand & positive PR. They truly are the voice of the company as they deal with the positive as well as the negative. And they're at events making things happen!
Assisting with the Conversion as people move toward the purchase decision:
A Community Manager is the industry expert. They have in-depth knowledge of the products and their application. And most importantly they're very connected with the customers. Community Managers can be the Salesperson's best friend when they need some extra assistance for the challenging questions. A Community Manager can also help with customer support issues both before and after the sale. This builds trust and confidence about the product/brand. If people know they'll get good service they're much more likely to purchase.
CrossSelling and UpSelling:
Our culture requires that we provide excellent customer service after the sale. So that's considered to be assumed. The cone gets larger for a specific reason. Community Manager's have many opportunities to educate customers about new features, additional products and provide resources. Many customers appreciate hearing about additional products or higher levels of service. It's easy to work hand in hand with sales to provide for customer's needs.
Product Improvements:
The opportunity to influence product development is a very important aspect of the Community Manager's role. Working directly with the customers and sales provides much feedback as to what's working, what's not & ideas for improvement. As a Community Manager interacts with thought leaders and others involved in the industry they are well prepared to advise the executive level. And the final area is staff training & HR. A Community Manager needs a team. HR has the ability to empower the organization so that they can interact with customers. This will require staff training and the Community Manager to lead that & be the go-to person.
This is not to say that we need to forget social media best practices and push our message. I believe that Community Managers need to work in synch with Sales and provide assistance as needed. My experience has been that we had so much to teach each other. Once we hit our stride and realized how the two roles complemented each other we were able to run with it.
What are your thoughts? Does this help justify a Community Manager/Social Media Specialist in your business?
If you're interested in reading more:
Responsibilities & Goals of the Community Manager Role
How We Grew Our Startup 840% in a Year