What is more important than your customers? Maybe your Community Manager?!! Today is a day to celebrate them & their impact on your organization!
Jeremiah Owyang always has thoughtful and innovative ideas. Last week he asked on Twitter: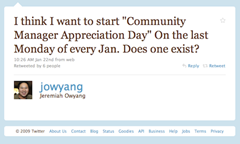 Community Managers are your unsung heroes. If your company is forward thinking and has one or a team of them then you know how important they are. They work tirelessly to ensure that customers needs and expectations are met. It's a very challenging role yet very gratifying! We do it because we love it. We love providing for our people: our customers, our colleagues, our management and our community at large.
Jeremiah has suggested that we make the last Monday of every January as "Community Manager Appreciation Day" #cmad
I would like to expand on Jeremiah's list of challenges that Community Managers face.
Internal challenges: A large part of a community manager's role is facilitating a culture shift within the organization so that the customer's needs are not only heard but responded to in an appropriate manner. This includes ensuring that management and the executive level are well informed with feedback.
There are so many Community Managers that have influenced me:
Jeremiah Owyang, Chris Brogan, Sean O'Driscoll and the list goes on.
And I am so appreciative of all those that I've had the opportunity to cross paths with over the past few years. I always learn with every discussion & try to give back what I can.
So hug your community manager & let them know they are supported!