A couple of years ago I had a conversation with Sean McDonald, former Director, Online and Marketing at Dell, about his vision for community. We had a very similar philosophy about the shortcomings of having a community manager or a team of them and how the concept of empowering the organization would be necessary. We agreed that staff across the organization needed to be trained and empowered, but we pondered what that looked like in regard to a culture shift and the huge challenges that presented.
That is the objective of my present day job. I just published my tenth white paper in a series on the ROI of Social Media on the topic of 'Creating A Social Business Through Listening'. It is a culmination of over two years of direct focus in the social media monitoring industry. My work with Alterian SM2 (formerly Techrigy) has contributed to evolving online listening based on customer needs and industry requirements along with the measurement of value and ROI. So this was indeed a momentous occasion for all I evangelize and represent!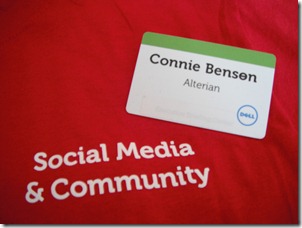 My vision is that every company needs a community strategist to guide the culture shift in a company so that the organization can embrace and leverage social channels in order to meet it's business objectives. It is only through building community internally that the company can realize the full potential of the social web and build an external community along with realizing all the benefits.
Dell gets this! and they are executing on a massive community building project internally. They have trained 5,000 staff of their 100 k strong. And they are listening to their community (both internally & externally). I see the new listening control center as a statement to their commitment to not only listen to their customers, but to make sure that change happens. As we all know, Listening is the first step and the most imperative!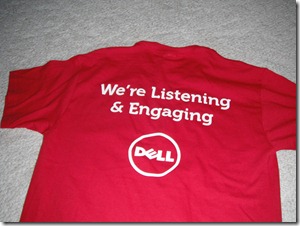 It was amazing to hear the passion that these people have for socializing Dell and making their brand strong. I was touched to see Michelle Brigman, Social Media Listening & Engagement Operations Sr. Manager, get emotional when talking about what they're trying to accomplish. I watched her express how they want to provide their customers with the best service in the upcoming seasonal rush when everyone gets harried. They are working as fast as they can to empower their teams company wide to provide the best customer experience possible. Imagine the scope of this project.
In the near future I will be sharing some videos that imparts the efforts and passion of this amazing project that Dell has taken on. Manish Mehta, VP Social Media & Communities, asked me if I thought other companies would be doing this and my response was, "Absolutely! This is the future!"
Thank you to the Social Media team for inviting me to join your celebration of Community Building and Listening. Special thanks to Lisa Grimes for coordinating it. I appreciated the opportunity to be introduced to Michael Dell and shake the hand of a man that is leading such a huge change in the profession and industry that I've been pioneering. Congratulations to Dell on making great strides in setting a new organizational standard.
More information from Dell's perspective can be found on Mashable. And you can read about my experience with Dell's Customer Advisory Panel:
What companies do you think are doing a good job in operationalizing social media?