Last week I tweeted this photo of my car being loaded on a truck destined for my next social engagement.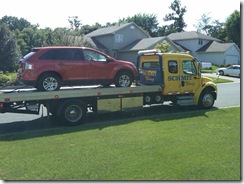 On Monday, August 29th, I will start the next chapter in my career. I will be joining forces with Bill Johnston and the global community team at Dell in a new role as Sr. Manager, Community Strategy and Execution. Needless to say, I am very excited to be joining a team and company that is committed to becoming a social business.
In looking back, this appears to be a natural next step. Long ago (around 2008) I had a conversation with Sean McDonald and we pondered how to evolve the benefits of the community manager role in terms of a social business. Essentially, how does an organization scale it. Since then I kept tabs on their progress. I also participated in their Customer Advisory Panel (#DellCAP) for the past two years and attended the launch of Dell's Social Media Command Center last December. It's incredible that Dell's internal University has trained over 5000 people and certified over 2000 and they have established an unprecedented listening center that plugs the company into the social sphere. I have watched their progress and look forward to joining the innovative efforts at Dell!
My journey to this point has been guided by amazing people and great experiences. I have thoroughly enjoyed working in the social media monitoring world with Techrigy and post-acquisition with Alterian. As a result I am blessed with friends around the world. I have loved working with such dedicated people.
This evolution of my career includes a huge change and everyone is asking … Are you moving to Austin? Many know that I moved south to the Minneapolis area last year (to be near an international airport). I will be joining my car on Monday when I start at Dell's corporate headquarters.
Stay tuned as the journey continues!