An overview of the lifetime traffic around my blog made me realize how much my blogging has impacted my personal brand and the ROI around it. This quick exercise made me realize that I need to start blogging again on a regular basis and start investing again.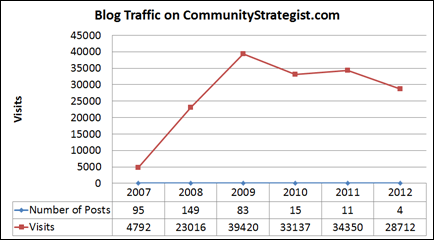 I love digging into numbers! And the steady number of visitors to my blog despite the lack of new posts reinforce the statements that I hear on an ongoing basis:
some have said that it's a Bible for Community Managers
requests that I start blogging again
it inspires people to join the profession
I started blogging in December 2006 on a niche blog. In early 2007, I realized that I needed to be blogging under my own brand and I launched this blog in September of that year. I posted articles many times a week consistently through 2009. Once the startup that I was working for was acquired in mid 2009 my blogging subsided. Part of that was because I was busy writing a series of 10 white papers on Social Media ROI.
It really surprised me that the traffic has continued at that rate and so I took a look at what's been driving it. Interestingly enough, StumbleUpon drove the most traffic in 2007 and 2008 followed by Twitter. In 2009 it shifted to Twitter driving the most traffic. Over 25% of the traffic for 2010 – 2012 has been from the definition for Online Community Manager on Wikipedia.
The ROI of my blogging and the value of my personal brand is fairly easy to express even though I don't have any direct revenue generating aspects on my blog such as affiliate links or ads.
Here is an overview:
This review reminds me of the following five reasons of why it's important to invest in yourself by blogging:
Professional growth – Recently I have been using LinkedIn to document my experience, but it's time to return to sharing my insights and learnings from them.
Profession/career evolution – Online Community strategy is still a nascent role and companies are coming to realize the value of engagement and related KPI's. (It's so much more than the platform or social channel)
Therapy – Writing has always been helpful for me to express my ideas and I find it quite relaxing. I have also become much more proficient with diagramming my concepts and ideas.
My goal is to publish weekly. It will also be a good opportunity to review some of my most read content and update it.
Have you done a high level overview of your blogging efforts? What are your take aways?