Twitter users are intuitively on the cutting edge! A couple of days ago I saw someone comment that they wished they could order their take out food by text messaging.
Social media marketers will be challenged on how to help their clients creatively utilize social media tools. Consumers want time saving features & efficiency. But listening carefully to customers could result in some very interesting services that integrate social media tools that people are already using. (I think that's the key).
Jim Tobin posted this ad by Papa Johns where people can text their order in. Now imagine if the customers that use this service opt in to receive text messages of special offers that were sent out near the end of people's work days? Would that increase sales?
NPR has a 5 min podcast on Papa Johns & Dominos using text messages for ordering.
gomobo.com is a service for restaurant users to use. It allows users to text their order in & pay, then they receive a text message back stating the time the order will be ready.
Their tab to recruit restaurant owners has very descriptive clip from a Good Morning America spot. Their comment that it's quite popular with 40 yr old soccer moms was interesting.
Check out their call to action to recruit new restaurants. It's a very tactful appeal to consumers to take responsibility for recruiting restaurants.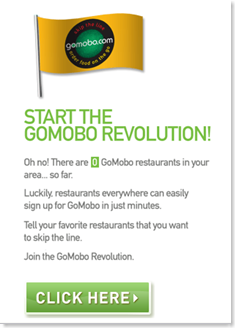 Have you used a service like this? Is it something you'd like to see in your neighborhood & you'd use? What other services would you text for? library, dry cleaner, pharmacy,…?