Yesterday's webinar, Web 2.0 in the Enterprise, by Rob Koplowitz of Forrester was an excellent presentation that really got me thinking about the various aspects of building community inside the enterprise. Most of my focus has been external but the concepts of working efficiently, collaboration & building relationships applies to the internal aspects too.
Here's an outline of the main points:
1. Knowledge workers – the next place for efficiency (email isn't cutting it anymore & elegant web 2.0 solutions exist now that foster internal community building)
collaboration is being redefined (and it's traumatic to some)
it's about how people work & human activities
brands need to differentiate themselves & they can achieve that by drawing on their employee's ideas
I like Forrester's definition of Web 2.0:
A set of technologies & applications that enable efficient interaction among people, content, and data in support of collectively fostering new businesses, technology offerings, and social structures.
Rob made the point that the first part is the tactical aspect.And the underlined part is what's causing the ruckus. Digital natives are ignoring IT & wanting to use collaboration tools, information sources & networking options that aren't necessarily endorsed by the Enterprise. These solutions are relatively inexpensive or open source & the younger generation expects to work in a Web 2.0 environment. The good news is that these tools require little or no support from IT, so they easily be outsourced. Rob provided stat's that over 50% of organizations are considering implementing collaboration strategies & 25% will be implementing Web 2.0 technology.
He gave an example of how Bell Canada creatively responded to the economic threat of Google. They utilized the long tail to stimulate idea generation from employees by creating an internal blog encouraging idea generation & then the ability to vote. The highest rated ideas & the lowest were championed by the executive level for subsequent strategic planning.
Blogs are a good way to gather ideas from staff internally & document information. Wiki's are used for collaboration. The value of both is that they build brand inside the organization. They encourage organizational change. Once people get used to using the blog/wiki they enjoy contributing. Both provide a "corporate memory" that is invaluable. And Rob pointed out that new voices emerge from the organization. It puts email back to the purpose it was intended for.
The slide below highlights what Web 2.0 offers. Information becomes artifacts. Down on the bottom left is where IT needs to be involved in ensuring that policies, security & compliance are followed. This removes the risk & allows for more transparency because the purpose of the tool has been reviewed & approved.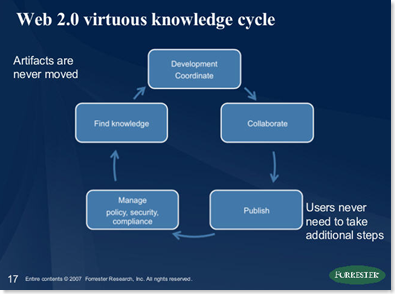 How to go about implementing this?
Assume that the existing compliance, privacy, security & discovery procedures apply
The organization needs to assess authentication & security.
Decide on the levels of the policy
What's appropriate considering the situation?
Internal versus external information
Public versus private systems
Trusted vs non-trusted info sources
Rob listed out things to look for:
Authentication model
Security model
Integration with search strategy
Policy management
Integration API's
He wrapped up his presentation by encouraging the audience to find strategies that harness the new Web 2.0 tools. Building community internally can provide business value today.
I want to make a point that the tools/services are very reasonable for building community internally or externally. We just need to help organizations get over their fears & encourage them to start experimenting!
Please share your experiences. Someone sent me a note with their story & I'm going to interview him & share it with you.