When I think of viral, the first thing I think of is YouTube. In particular the WillItBlend videos. But YouTube isn't for everyone. I have the capability to make live videos and screencasts, but umm I'm not compelled to do so. I'll leave that to a master like Gary V.
Two days ago Slideshare sent me an email about my Case Study for using Twitter for Lead Gen:
Your presentation is currently being featured on the SlideShare homepage by our editorial team.
Today I received another email that said:
"Twitter: a Case for Lead Generation" is being tweeted more than any other document on SlideShare right now. So we've put it on the homepage of SlideShare.net (in the "Hot on Twitter" section).
It was odd because I had tweeted a link, but Twitter was quiet (or so I thought…). In looking at the stat's on Slideshare I saw that SocialMediaToday and it's sister site, MyVenturePad had published my blog post and were receiving a LOT of traffic. There were almost 1500 views between them. Next question, what was driving the traffic? A quick search for the phrase, "Twitter Engagement", that's a part of my blog title showed that there was some serious retweeting happening on Twitter!
Slideshare is an active community with great shareable features
For the past three years I've been studying why things happen in social networks. Then I unravel them and share the steps so that you can apply them to your situations. And this one is easy to replicate. It will work for YouTube as much as Slideshare too!
First, a quick explanation of Slideshare. Skip this if you're familiar with it.
Slideshare is a free site where you can host your powerpoint decks. It's a really active community. They totally understand the concept of 'shareable' which is so imperative for word of mouth (some call it viral). (This is one of the main principles that Andy Sernovitz asserts and I highly recommend that you read his book, Word of Mouth Marketing.)
The secret sauce is that it allows you to embed your presentation in your post and others can download it and also embed it. They also offer a nice widget that I've put on the side of my blog AND are integrated into Facebook and LinkedIn so my friends there can see my newest decks.  It can grow legs! and Slideshare keeps track of the number of views. The community in Slideshare can favorite presentations and comment on them. So Slideshare has done a great job of helping their users connect!
How can you make Slideshare + SocialMediaToday + Twitter = Viral
I'll list the steps. You provide the ideas
Create your content and post on a shareable site such as Slideshare or YouTube
Write a blog post and embed the content
Syndicate your blog to great communities like SocialMediaToday.com, MyVenturePad.com, etc
They and many others tweeted the link x 180 + times!
Engage with the communities on Slideshare, Socialmediatoday & Twitter. Here's an article I wrote on syndicating your blog. (That post is how I got my job at Techrigy)
Watch the ripple effect afterwards and thank those that blog about it and further share my content.
Here's the stat's on this adventure 24 hours after publishing my blog post:
On Slideshare.net (note that it's been downloaded 48 times)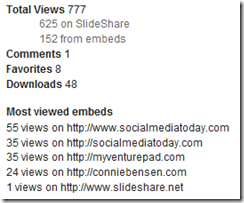 SocialMediaToday.com – 1529 views

MyVenturePad.com – 1147 views

Tonite I was asked a question. Will this work for a company and their brand? Of course! I realized yesterday that Dell had followed me on Slideshare. And their decks are quite interesting! Check out the So So Social Media Strategy. (Note that my deck is also branded & has my contact info.)
Another point is that you don't need the reason of speaking at events to create and post slide decks. There are also people in Slideshare community that have never posted a deck (but what fun is that?!)
So what are you waiting for? Get busy, and make a slide deck. Link it up here. Need ideas? Go explore the decks in Slideshare.
Special thanks go to Beth Harte & Ann Handley for inviting us to share Techrigy's story in Marketing Prof's Twitter Success Case Studies and again at their virtual event! (It forced me to make the slide deck!)
And thanks to Adam Helweh @SecretSushi for his thumbs down on my first draft. You can thank him for his honesty & for pushing me to be more creative!
Now I want to see your work!