Early yesterday afternoon I put together a compilation of links to information on Gustav that @WayneSutton had started. It was intriguing to watch volunteers come together using social media tools to prepare for the hurricane.
Andy Carvin set up a ning & started coordinating the volunteer efforts. His ning became the Gustav Information Center. There was a discussion as to whether the Katrina wiki should be used. That information would be three years old & it would be lost. So a decision was made to create a new one using the same wiki software to make it easy to port over the structure.
Yesterday I wasn't connected with Andy Carvin, but ChocoNancy follows both of us put this up on Flickr.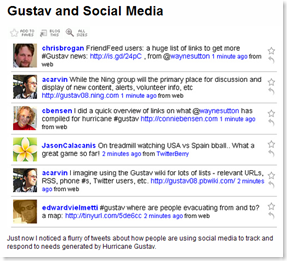 Hosting needs for the wiki were generously provided by Network Solutions (whom I work for). Deanna Zandt is handling the technical aspects of the Hurricane Gustav Wiki. Once the wiki was installed, volunteers went to work copying over the info from the Katrina wiki. Today, less than 24 hours when this initiative started volunteers are checking links & updating them. At this rate, the effort will probably be done before the hurricane makes landfall.
The wiki will serve as an incredible resource for those affected. It's amazing to watch people using & aggregating information from Twitter, online sources, Craigslist, mainstream news & then offering it to be read in a number of formats.
If you don't have computer access
Mobile versionMainstream news (this is just one of the many examples):

James Janega talks about Mark Mayhew in his Chicago Tribune article which highlights the value of community around social media tools like Twitter & blogging. I know @MarkMayhew having crossed paths with him in Facebook. He announced yesterday that he's staying on Bourbon Street & riding out the storm.
I'm wondering if the national emergency organizations should take note & have templates set up ready to use for various natural disasters. What about having their staff trained to utilize the various social media tools & engage the power of volunteers? There have to be lessons that can be learned here. What are your thoughts?